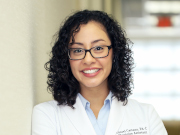 Laurel Castano
Physician Assistant
BS in Exercise Science

Laurel Castano is a nationally certified physician assistant who specializes in Dermatology. She earned a bachelor's of science degree in Exercise Science from the University of North Carolina at Charlotte. She came to work for Dr. Schulman as his medical assistant for five and a half years prior to going to graduate school to become a physician assistant. She attended Eastern Virginia Medical School, graduated with honors, and returned to Charlotte to work with Dr. Schulman.

Laurel moved with her family to the Charlotte area from Rhode Island in 1996. Her parents are originally from the country of Colombia.  She is fluent in Spanish, and while earning her Master's degree, she completed a medical Spanish course through Canopy.

Laurel lives in south Charlotte with her two rescue dogs and her fiance, and is very family oriented. She is excited to provide care to the patients in the surrounding area.